Happy 10th birthday to EyeDock
Well, I've decided to declare today EyeDock's 10th birthday. To be honest, I have no clue when EyeDock was actually "born". It started as an idea that stewed in my mind for quite a while, and it began to gel as I read HTML for Dummies and Sam's Teach Yourself Apache, PHP, and MYSQL in 30 days.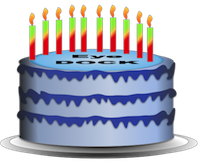 You probably can't say it existed until I had a real working product, however, and I think this happened sometime in 2002. Of course, for the longest time I only showed it to my girlfriend (who is now my wife) and a few of my closest friends.
I eventually skewered up the nerve to mentioned it on an OD forum, the Optcomlist, and was pleased to get a lot of positive feedback (as well as a few "you must have too much time on your hands" comments - I've since learned that if you put you neck out there, especially on the Internet, you're going to have brace yourself for some criticism).