EyeDock is the leading online clinical reference for optometry. Established in 2002 by Todd Zarwell, OD, FAAO, the website began as a quirky hobby to help fellow practitioners in their day-to-day patient care. EyeDock was the first website to feature a comprehensive database of contact lens parameters. Brian Chou, OD, FAAO, joined the venture during the summer of 2003 as a co-developer. Additional features, including clinical calculators and a topical ophthalmic medicine database, were brought online. More recently GP lenses and a refracting tutorial and simulator were added to the Web site. Visitation to EyeDock.com has grown quickly through positive word-of-mouth and press coverage in several trade publications, with a loyal following.
Today, EyeDock.com has an active subscriber base of nearly 3,000 eye care professionals. The website is poised for continued growth with strategic industry alliances and an unbeatable value-proposition for eye care professionals. In particular, a subscription to EyeDock.com is less expensive than the leading printed contact lens reference, yet is updated more frequently, and offers more features like advanced search functions and a companion application for the iPhone.

Thank you for your interest in EyeDock.com!
Todd M. Zarwell, OD, FAAO
Dr. Zarwell is in clinical practice in Madison, Wisconsin. He earned his undergraduate degree from Ripon College before continuing at Illinois College of Optometry (ICO) for his doctorate. At ICO, he was a member of the Gold Key Optometric Honor Society and was awarded Colleague of the Year by his graduating class. Thereafter, Dr. Zarwell completed fellowship training in refractive surgery management and anterior segment disease at Davis Duehr Dean Eye Care Specialists. He presently serves as an adjunct clinical professor at ICO.
When Dr. Zarwell takes off his optometrist hat he enjoys developing Web sites, iPhone apps, and spending time with his two young boys.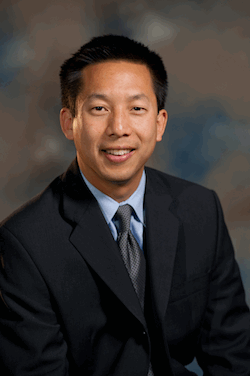 Brian Chou, OD, FAAO
Dr. Chou runs a specialty keratoconus clinic in San Diego emphasizing non-surgical visual rehabilitation with scleral contact lenses. A 1999 graduate of UC Berkeley School of Optometry, he completed fellowship training in refractive surgery management at Jules Stein Eye Institute, UCLA School of Medicine. Dr. Chou has over 125 published manuscripts including the book, Spanish Terminology for the Eyecare Team. He received the Nuemueller Award in Optics from the American Academy of Optometry and is on the editorial review board for Review of Cornea & Contact Lenses. Dr. Chou is also a consultant to several vision correction companies and an expert witness for medicolegal cases.