Well, I've decided to declare today EyeDock's 10th birthday. To be honest, I have no clue when EyeDock was actually "born". It started as an idea that stewed in my mind for quite a while, and it began to gel as I read HTML for Dummies and Sam's Teach Yourself Apache, PHP, and MYSQL in 30 days.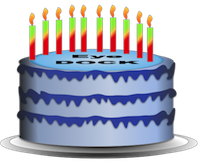 You probably can't say it existed until I had a real working product, however, and I think this happened sometime in 2002. Of course, for the longest time I only showed it to my girlfriend (who is now my wife) and a few of my closest friends.
I eventually skewered up the nerve to mentioned it on an OD forum, the Optcomlist, and was pleased to get a lot of positive feedback (as well as a few "you must have too much time on your hands" comments - I've since learned that if you put you neck out there, especially on the Internet, you're going to have brace yourself for some criticism).
When I started EyeDock I was a single guy. My girlfriend (also an OD) worked a lot of nights and weekends, and I had a ton of free time to learn programming, design, database management, etc. A lot has changed in the last decade. We're married now and have three wonderful little boys. Time is definitely a premium nowadays!
My passion for EyeDock is unchanged, however. I can't tell you how much I still love building these searches, calculators, tutorials, etc. I feel so fortunate to be able to care for people's eyes during my "day job", and then being able to come home and spend my evenings creating things to help myself and others do our jobs more efficiently.
I am also extremely thankful for everyone who has supported EyeDock over the last decade. After several years of working on EyeDock as a free resource I realized I could no longer justify the time I was putting into it. Making EyeDock a subscription service was an incredibly difficult decision, and I'm so glad our users stuck with us. The support and feedback has truly been humbling, and continually motivates me to further refine and improve upon our little website.
Thank you!
Todd Zarwell OD FAAO