I was feeling a little nostalgic, so went into my basement and dug out the cardboard box where I keep old hard drives and looked at some of the earliest versions of EyeDock. Everything I was pretty crude, especially from a 2013 perspective. After all, I was learning on the fly and everything was an experiment of sorts. In all fairness to myself, however, even the most popular websites from 10 or more years ago look pretty simple nowadays!
Anyway, it might not be of much interest to anyone but myself, but I thought I'd pull out some of these early images and share them here. I know some of you have been using Eyedock since the very early days - do you remember any of these images?
I don't think anyone saw this besides me and a few of my coworkers, but the earliest version of EyeDock looked something like this: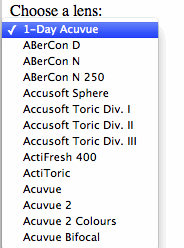 When I increased the functionality and got it looking a little prettier I decided to buy a domain. Unfortunately "eyedoc" was already taken, so I settled on "EyeDock" as the next best thing. I'm not sure this was a good choice - I've spent a lot of time telling people at conferences "It's EyeDock - with a k at the end. Don't forget the k!" To this day I wonder how many people heard about our website, went home and typed in "eyedoc" into a browser and ...didn't find us. Anyway, I tried to rationalize to myself that it was a good name, as in sure, it's a dock, a safe harbor for eye-related resources. I even tried to force this line of thinking by making a header image of an eye in a dock:

I'm sorry for that.
Actually, I think I made this header image even before the one above, but I never used it:

That's me in the picture. I guess I was going for a serious look but I think I ended up with slightly creepy instead.
I eventually settled on a smaller image of a blinking eyeball with the words "The EyeDock":

The original logo was an animated gif, but I remade it in Flash a year or two later. I really enjoyed making this one - hover over and click the image to see why!
I even got into making some seasonal logos: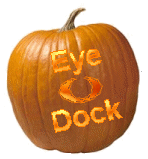 I eventually reached a point where I wanted to redesign the entire website. I realized there was no way I could do this on my own and, for the first time, hired someone to help me. I found that it was really difficult to explain to a non-eye person how all the contact lens parameters fit together, and ultimately decided it would be best if I rewrote the contact lens database code myself. However, EyeDock received a much needed facelift and some great new features: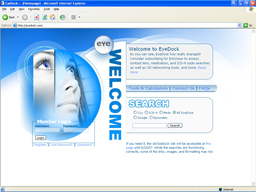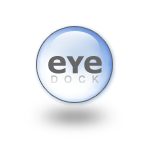 I was also particularly proud of this wintry Flash animation:
In summary, the early days of EyeDock looked a little amateurish, mostly because it was created by an amateur. Despite this I hope that most of our loyal users would vouch for it's value as a chair side reference, even in the very beginning. I'm glad the current site looks more like the professional resource that it's intended to be, but I sometimes miss the whimsy of those early days!