I wanted to write a little note about some new features I've added to the contact lens searches in the last couple weeks.
As a side note, this is something I'm really horrible at doing: I'm constantly tweaking and adding things to EyeDock, but then I forget to tell people about them. I like to spend my time doing the things I enjoy, which is building new features. I have to spend time doing things I don't particularly enjoy, which is keeping data up-to-date and answering support emails. Everything else always seems to fall be the wayside, which pretty much means everything related to business and marketing.
So, with that in mind, I'm going to share some new features that you probably wouldn't notice unless you happen to stumble upon them.
Distance Center or Near Center data for multifocal contact lenses.
For years, I've been kicking myself for not including database fields for categorizing soft multifocals by distance-center or near-center. As I've read more and more about how these designs factor into myopia control, I realized it's something I really needed to address. So, I added these fields to the database, wrote code to search by them, and went through all the bifocal lenses and populated these values wherever I had the information.
So, to search by this field, go to the contact lens searches, select the "More options", and then select "Bifocal Center" in the "even more options" dropdown.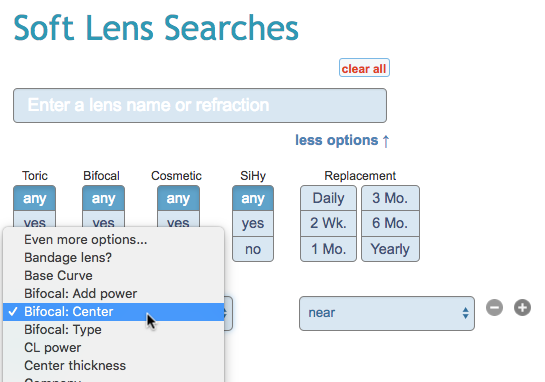 As always, you can combine this with any other search criterion. So, for example, you could search for daily disposable distance-center bifocal lenses or silicone hydrogel near-center lenses or anything else you want.
Other new lens fields
While I was at it, I added several other database fields that I felt were long overdue, including:
Keratoconus
Prosthetic
Novelty
Bandage lens
As a result, you can search for lenses by these factors now too.
Smarter Universal Search
I call the search bar at the top of the page the "Universal Search" because it has a TON of built in functionality. For one, it can be used to search all the databases: Soft Lenses, GP lenses, and Topical ophthalmic medications,and even link to external sites for things like ICD-10 searches. However, there are a lot of features that I'm sure have flown under the radar.
For soft lenses, you can search by:
1. Lens name (of course)
2. Abbreviations. For example, type "AOFA" as a quick way to search for "Acuvue Oasys for Astigmatism"

3. Search by company. For example, typing "Alcon" will let you see all of Alcon's lenses.

4. Keyword searches. This is fairly new, but the search will now recoginze a bunch of keywords. Some examples would include:
High dk
bandage
center-near
toric
daily replacement
And many combinations of these things, such as toric bifocal high dk lenses:

5. Searching by refraction. This is a subscriber only feature, but I believe it is EyeDock's greatest feature. I've written entire posts about searching by refraction so I won't go in to too much detail here but, if you haven't tried it, you're really missing out!

Well, that's all I'll share with you today. There are a lot more things I should probably share with you, though, so I'm going to have to try to push out a few more posts like this so one. I need to make sure you're using EyeDock to it's fullest potential!
All the best,
Todd
Todd M Zarwell OD FAAO