Recording Keratometry: Can't we all just get along?
I've had a contact lens calculator on EyeDock for nearly 10 years now, and overall it's been very well received. I was therefore pretty surprised to receive an email a few days ago taking issue with how I require the keratometry values to be entered. The calculator gives these instructions:
Enter the keratometry measurements in this format: 45/43.25@90.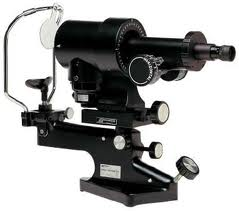 When I made the calculator I was pretty pleased with myself for allowing my users to simply enter a string of text, as opposed to selecting each value from separate dropdown boxes. However, to make it easier to parse the input I figured I better restrict the user to a certain format. I decided to prohibit entries like this:
45.00 @ 180 / 43.25 @ 090
Hence my instructions listed above.
Now, when I was at the Illinois College of Optometry we learned to record K's like this:
horizontal meridian power / vertical meridian power @ vertical meridian

eg) 44.00 / 46.00 @ 090

This seemed about as simple as could be - on a manual keratometer you record it like so:
the drum on the left / the drum on the right @ the number on the axis wheel