Alcon Introduces Air Optix Colors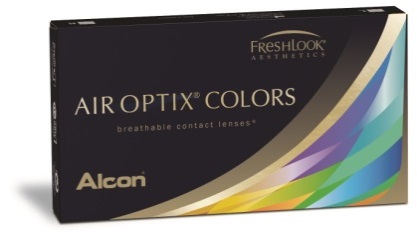 Alcon introduces their long awaited Air Optix Colors:
"Alcon, the global leader in eye care and a division of Novartis, announced today the launch of AIR OPTIX® COLORS prescription contact lenses, a new color contact lens that encapsulates Alcon's 3-in-1 Color Technology in a silicone hydrogel lens. Available in nine colors ranging from subtle to vibrant, AIR OPTIX® COLORS contact lenses are the first monthly-replacement, daily-wear color lenses available in the U.S. on a silicone hydrogel platform, allowing up to six times more oxygen through the contact lens compared to the leading, older technology color contact lens.1* The natural-looking color is contained within the innovative lens material, so that the only thing touching the wearer's eyes is the ultra-smooth permanent plasma surface of AIR OPTIX® brand contact lenses. Contact lens wearers can enjoy beautiful, comfortable lens wear. "
"The scientific advancements in AIR OPTIX® COLORS make this lens the biggest breakthrough in the color contact lens industry in more than a decade," said Carla Mack, OD, MBA, FAAO, Director of Professional and Clinical Support, for U.S. Vision Care at Alcon. "We know our consumers – Millennials in particular – want the ability to enhance their eye color in a natural, beautiful way. Now, we can give them an option that's not only stunning, but also incredibly comfortable."