EyeDock's Features
The early seeds of EyeDock germinated in 1999, and the site has been steadily growing ever since. A ton of features have been added over the years and, as a consequence, it's really difficult to concisely summarize all of them.
Soft Contact Lens Searches
EyeDock's soft lens searches help you find lenses and review their parameters. Searches can be done by name, company, replacement period, and about a bazillion other parameters.
Searches can also be done by refraction, which automatically takes care of the tedious things, such as:
compensating for vertex difference.
maintaining spherical equivalents.
and rounding to the closest available powers and axes.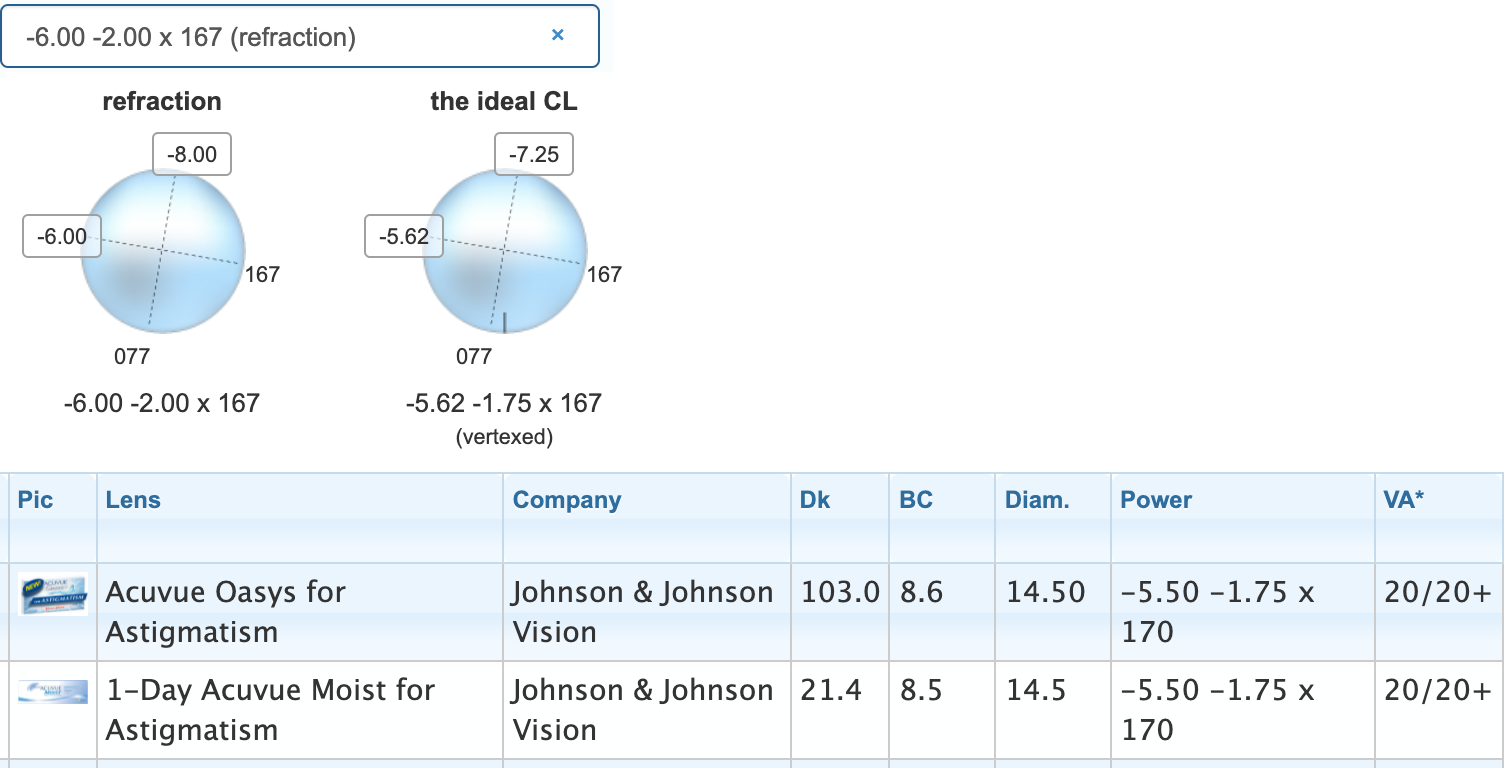 Other soft contact lens search features:
Advanced searches allow you to search and filter by nearly ever possible parameter (diameter, dk, water content, polymer, etc).
Search by private label brand names, or identify unknown lenses by searching by polymer and parameters.
See an estimate of yearly cost to the patient for most popular lenses.
Quick links to manufacturer websites and fitting guides.
Calculate trial lenses based on your refraction - including multifocal calculations specific to that lens's fitting guide (pro feature).
View online prices for most popular lenses (pro feature).
Graphically compare lens parameters - great for patient education. E.g. compare low Dk lens to high Dk alternatives. (pro feature).
More info:
Medication Searches

Search over 2,000 Rx and OTC ophthalmic products, as well as select systemic meds with eye care applications.
Quick text search by name, company, or ingredient.
Search by category (glaucoma, corticosteroid, lubricant, allergy, etc).
Filter by Rx/OTC, brand/generic.
Filter by drug form, including suspension, solution, gel, ointment, etc.
Search and filter by method of action.
View FDA drug labeling for each medication.
Displays and links to GoodRx pricing.
Works great on mobile devices.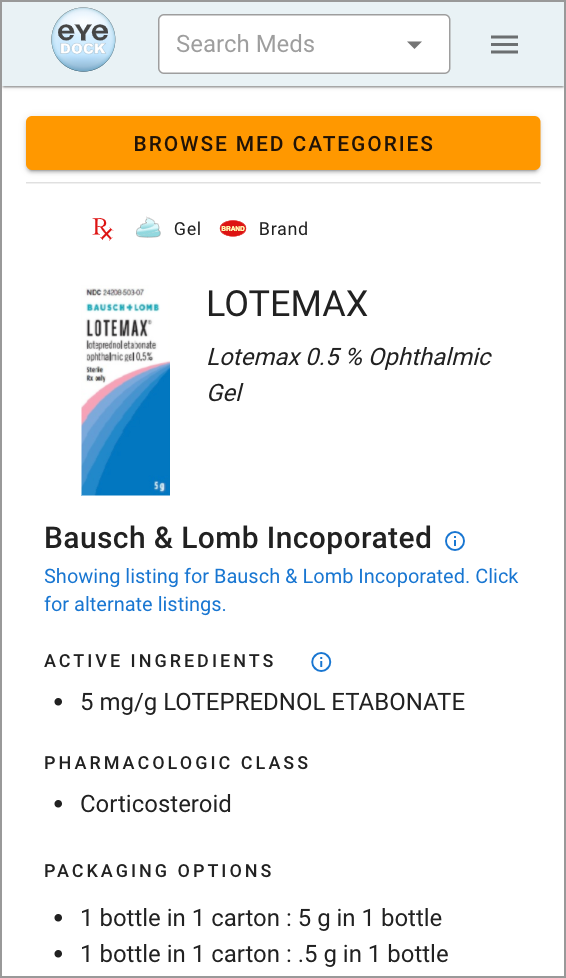 Contact Lens Calculator

(pro feature)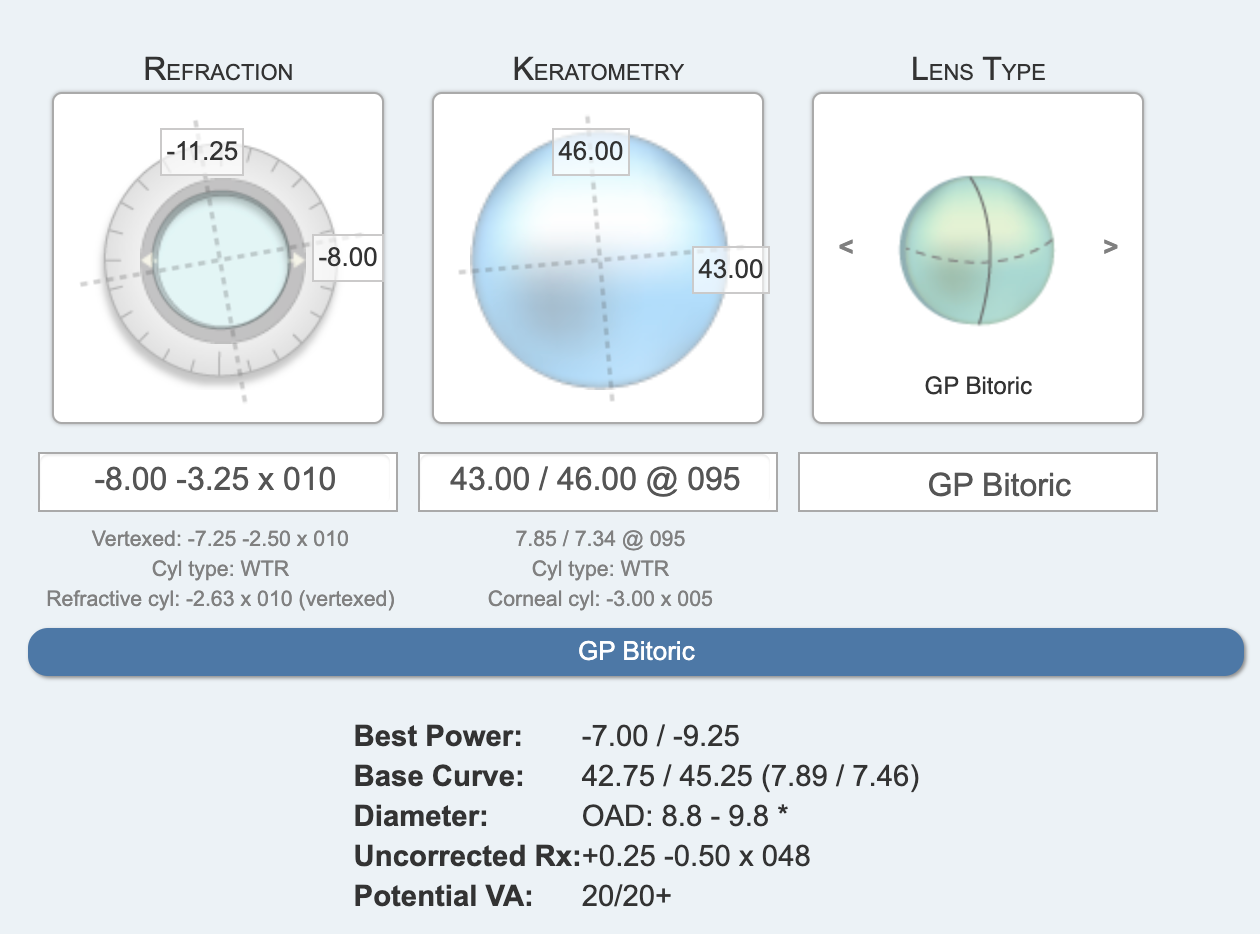 Use a refraction and keratomtery to calculate soft or gas permeable contact lenses.
Features include:
Ability to calculate soft spheres, soft torics, GP bitoric, GP front toric, GP back toric, GP SPE/CPE lenses.
Make suggestions as to which of the above lens types are most suitable for your patient.
Calculates uncorrected refractive error and reports potential acuity for a given lens type.
Visually displays the calculation steps on optical crosses (great for education).
Oblique Cross Cylinder Calculator
(pro feature)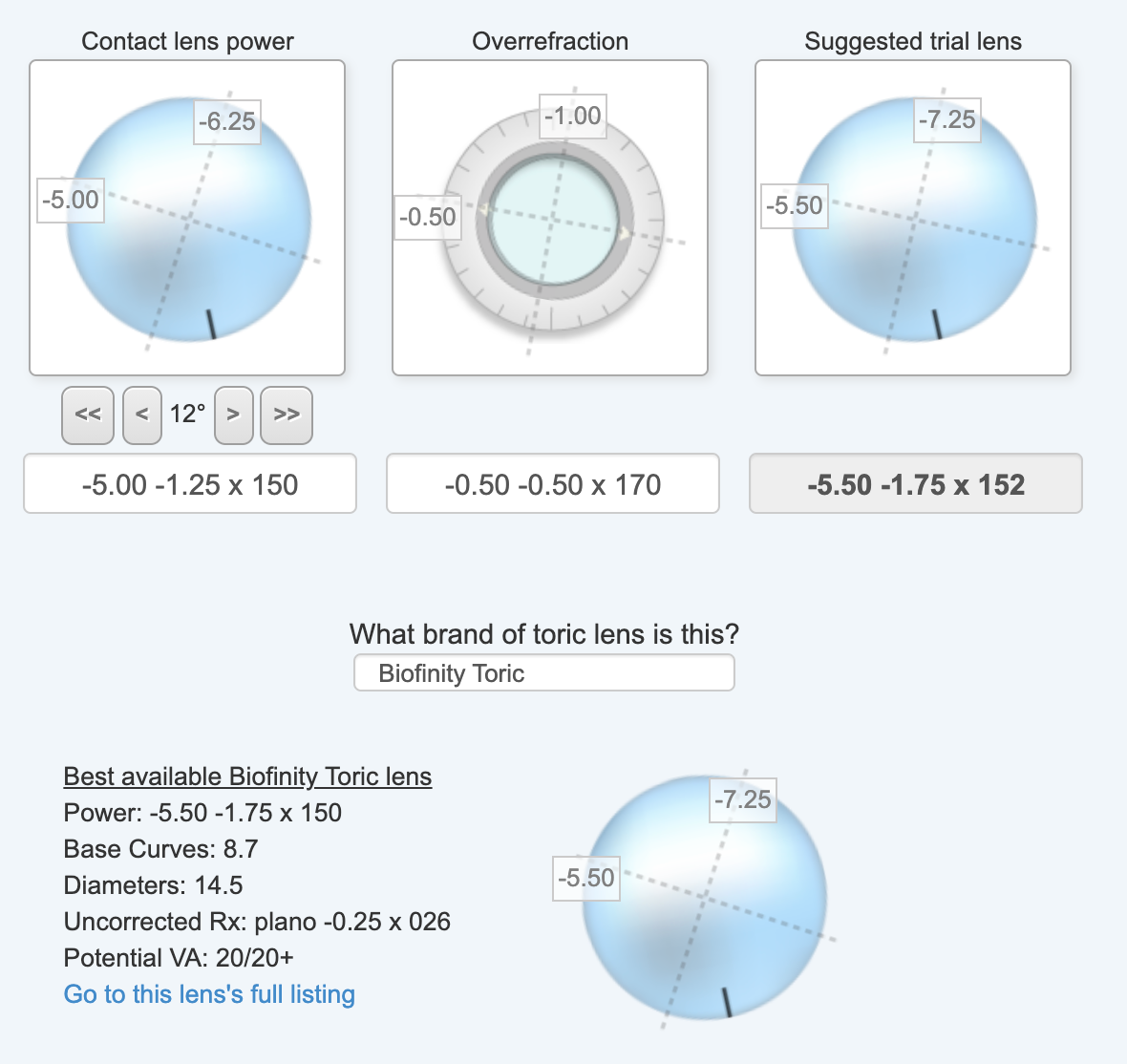 Specify contact lens power, rotation, and over refraction to determine your next trial lens.
Features include:
Easy natural text entry of CL and over refraction powers (no using tedious drop-down selectors).
Click the arrows or the lens itself to set the rotation.
Visually see CL and over refraction powers displayed as optical crosses.
Immediate results for next suggested trial lens.
Specifying lens brand will show the closest available parameters to the calculated result for that brand. In addition, the calculator will determine what sort of visual acuity you might expect from the best available lens
Parks 3-Step Utility
Isolate the paretic muscle in acquired vertical diplopia.
This utility walks you through the Parks 3-Step process and visually explains the result.
It is educational for students and a good review for practitioners who perform this test infrequently.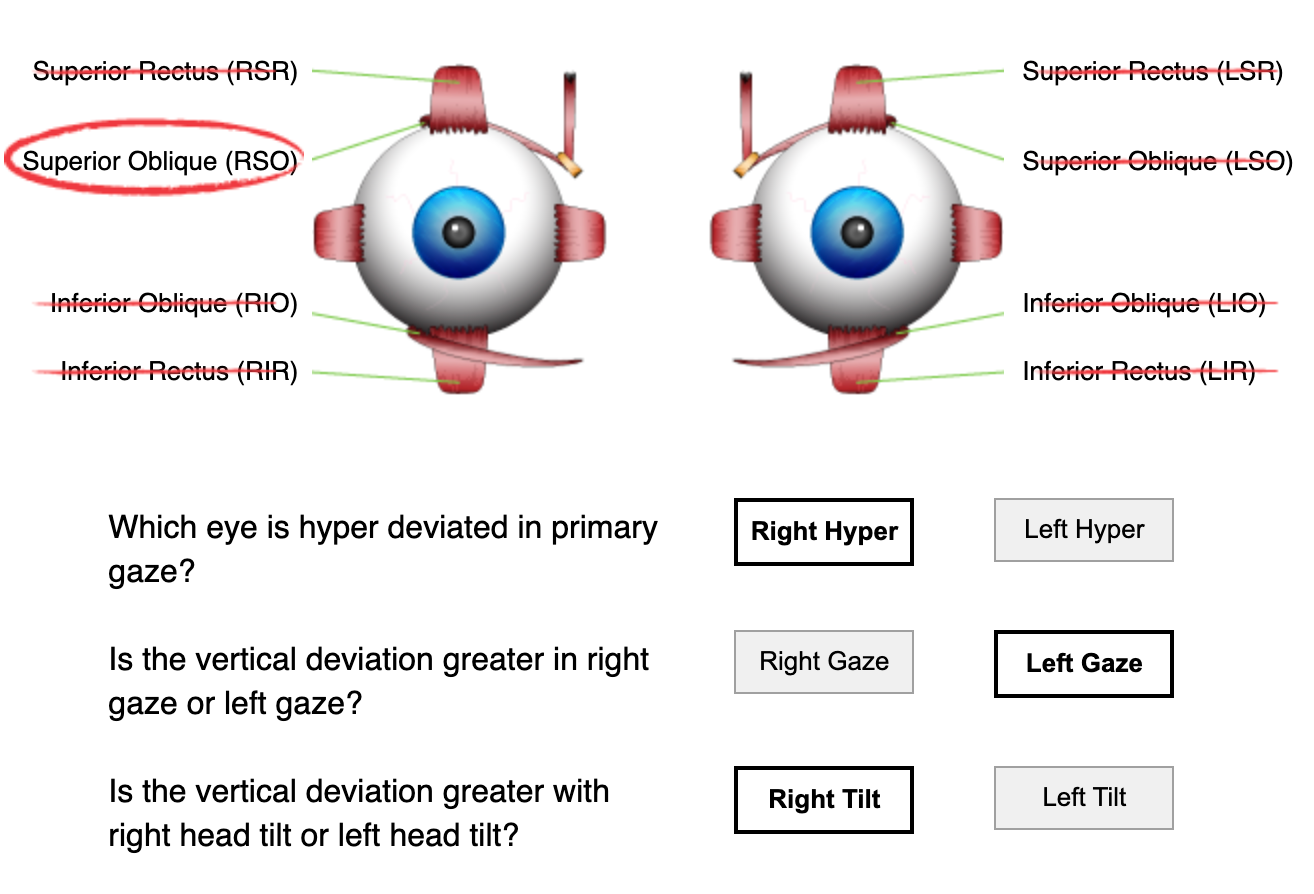 Meridian Power Calculator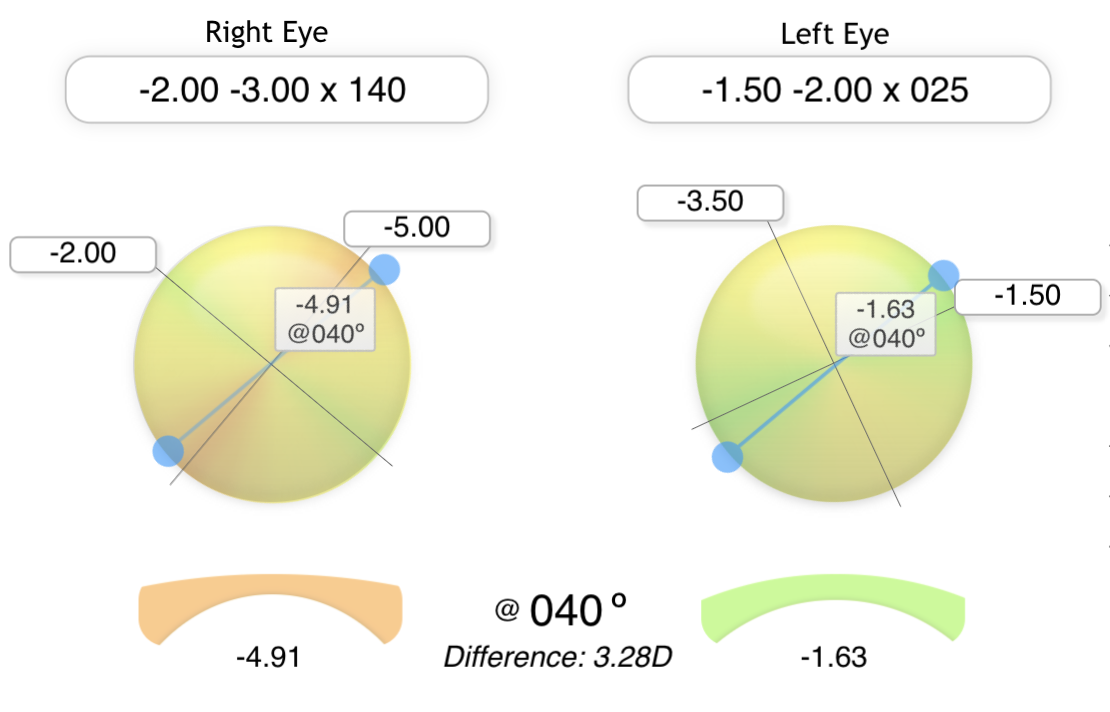 After entering a refraction for each eye, this calculator allows the user to view the power for each lens at any meridian.
This can be used as a first step for calculating prism or for determining meridional aniseikonia, which can be a determining factor in authorizing medically necessary contact lenses.
Plaquenil / HCQ Risk Calculator
Calculate a patient's cumulative plaquenil / hydroxychloroquine (HCQ) dosage, a risk factor for HCQ retinotoxicity.
Also allows for calculations of "safer" dosages based on patient body weight.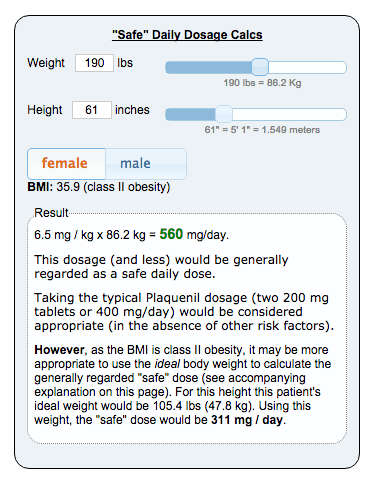 Quick Calcs: Vertexing Refractions and Keratometry Conversions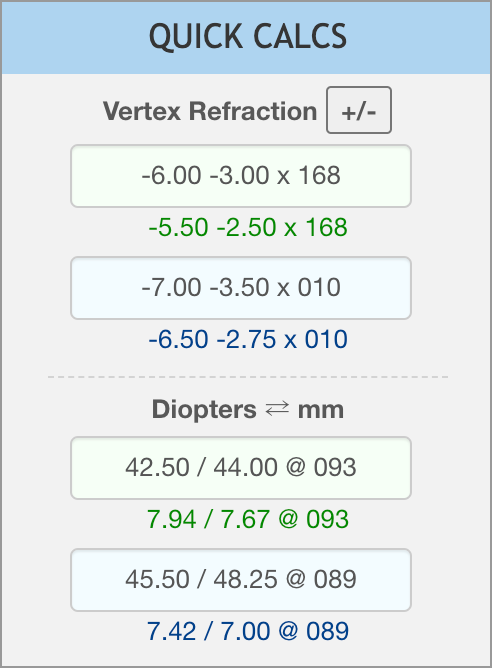 Quickly enter refractions or keratometry and convert the measurements to useful values for contact lens fitting.
Quickly enter measurements in a natural format (no selecting from dropdowns).
Vertex refractions to the corneal plane (from 12mm).
Transpose vertexing results between plus cyl and minus cyl.
Convert keratometry diopters to millimeters.
Convert mm to diopters.